Abortion III ... Human Personhood
When does human personhood begin?
Judging from the various comments (typically pro-life & pro-choice) on the topic, I think the core questions is
"When does human personhood begin?"

"Depends on whether you think of the fetus as being a living being or just a bunch of cells..."
-- Quoted by
Vidya
--
Before we go into the
conflicting beliefs about when personhood starts?
It happens at conception - the most common pro-life position
It happens when blood first appears - a new interpretation based on the Bible
It happens later in pregnancy - the most common pro-choice position
It happens at 14 or 22 weeks gestation - two novel arguments
It happens during childbirth - the traditional Jewish position
I thought it may be a good idea for us to take a quick look on the various
stages of development from fertilization to a new born
…
Fact:
It takes an Embryo about 10 weeks to be transformed into a Fetus
(its face looks human; its gender may be detectable)
and it takes about 4 months before its heartbeat is detectable
. More at
STAGES OF DEVELOPMENT, FROM AN OVUM & SPERMATOZOON TO A NEWBORN
1st Question: Can an embryo feel pain?
Many conservative Christians believe that the embryo can feel pain but scientifically… It's a different story.
2nd Question: Can a fetus feel pain?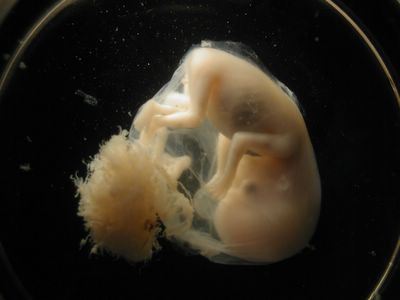 The short answer is
yes
. At some stage during pregnancy, a fetus becomes capable of feeling pain. But, there appears to be no consensus among experts about the point in the pregnancy when this happens:
Many physicians and researchers of fetal development believe that synaptic connections within the fetus' brain are necessary to perceive pain. These are not formed until well into the third trimester, when fewer than 1% of all pregnancy terminations are done.
Others, who tend to be pro-life advocates, believe that a fetus as early as 7 weeks after conception can feel pain. Thus, they believe that a fetus can feel pain part way through the first trimester, when most abortions are performed
It would appear that some of the experts' opinions are so heavily biased by their pro-life/pro-choice stance that they are incapable of making objective observations.
Many women seriously consider this factor when they are deciding whether or not to have an abortion. They are reluctant to submit to an operation that would be painful to the fetus. Women deserve to have precise information on which to base their decision. Unfortunately, emotional factors seem to intrude in this, as in all other matters related to abortion. Information is very easy to find. But its accuracy is almost impossible to evaluate.
Pain in an adult, child, newborn or late-term fetus originates as an electrical signal in some of the body's pain receptors. This signal is sent via nerve pathways to the spinal column, then to the thalamus - an egg-shaped structure within the brain. Finally the signal is transferred to the cerebral cortex where it is sensed as pain. In a fetus, the pain receptors develop around 7 weeks after conception; the spino-thalamic system at about 13 weeks. Finally, the connections to the cortex are established about 26 weeks into pregnancy. Some pro-life advocates believe that pain can be felt by the fetus when these systems are only partly formed. Most pro-choice advocates believe that the complete system has to be "wired up" before the fetus can feel pain - i.e. at about 26 weeks into pregnancy.
Statement by a Panel of Experts:
The issue of fetal pain was addressed by a working group appointed by the Royal College of Obstetricians and Gynecologists in the United Kingdom. The panel consisted of experts in fetal development, law and bioethics. Dr. Anne McLaren headed the group. She commented: "Fetal awareness of pain is a very emotive topic, of particular concern to pregnant women, but we have tried to approach it without preconceptions, to examine the scientific evidence dispassionately, and to identify areas where further research is urgently needed.''
The group determined that pain can only be felt by a fetus after nerve connections became established between two parts of its brain: the cortex and the thalamus. This happens about 26 weeks from conception. Professor Maria Fitzgerald of University College London, author of the working group's report, says that "little sensory input" reaches the brain of the developing fetus before 26 weeks. "Therefore reactions to noxious stimuli cannot be interpreted as feeling or perceiving pain."
They recommended that the administration of painkillers should be considered before an abortion for any fetus which is 24 or more weeks since conception. This would give a 2 week safety factor in case the date of conception is incorrectly calculated.Recent statistics show that of the 177,225 abortions performed in Britain during a recent year, only 92 (0.05%) occurred after 24 weeks
Statement by an "All Party Parliamentary Pro-Life Group:
"A group of pro-life advocates from various political parties in England issued a statement on "Foetal Sentience" in 1996. They concluded:"Since no direct objective method of assessing fetal pain exists, the crucial question with regard to fetal sentience is: At what stage of human prenatal development are those anatomical structures subserving the appreciation of pain present and functional?
The balance of evidence at the present time indicates that these structures are present and functional before the tenth week of intrauterine life."
Statement by Dr. Paul Ranalli:
Dr. Ranalli is a neurologist at the University of Toronto, in Toronto Canada. He is acting president of the de Veber Institute for Bioethics and Social Research. He gave a presentation called "Pain, Fetal Development, and Partial-birth abortion" on 1997-JUN-27 to the House Judiciary Committee of the State of Ohio. 2,3 He has concluded that the "spino-thalamic" system is fully developed at about 12 to 14 weeks of gestation. This is the system that conveys pain signals from pain receptors throughout the body to the thalamus. He apparently believes that the thalamus can feel pain, even though a connection between it and the cortex is missing.
To support his belief that a fetus in the second trimester can feel pain, he cites three signs:
a fetus will "withdraw from painful stimulation"
two types of stress hormones which are detected in adults who are feeling pain are also found in a fetus from when a blood sample is withdrawn. He quotes:
Nicholas Fisk of London, England who observed this reaction as early as 19 weeks, and J Partch of Kiel, Germany who observed it at 16 weeks.
More about Commission of Inquiry into Fetal Sentience and Laws regarding the use of fetal anesthetic during pregnancy terminations
Based on the prevailing intelligence we have on "Embryo/Fetus: Pain", at which stage during the course pregnancy do you think is when human personhood begins?