Abortion IX … More about Personhood
Moving a step forward from
PAIN: Embryo & Fetus
, let's take a look at various conflicting views on when human personhood begins ...
A new human person is present at conception, at birth, or at some time between.
After personhood is achieved, terminating life through an abortion is technically a form of murder
which some people believe can never be justified (eg. Born Again Christian). Others (eg. Muslim) feel that such an abortion is a moral act if it is needed to prevent the death of the woman, or perhaps if it will prevent her from becoming permanently disabled, or in cases of rape or incest. Still others feel that an abortion can be a moral act for other reasons (eg. socialist & economist).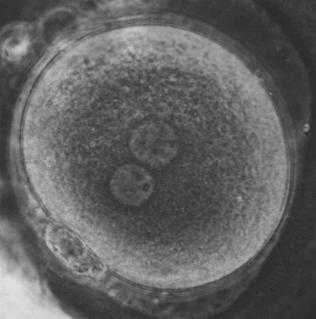 A newly formed zygote:(commonly referred to as a "just-fertilized ovum")
Unfortunately,
there is

NO CONSENSUS of when human personhood starts

, let alone on the conditions under which an abortion of that new person should be allowed.
Science can tell us, with increasing detail, the processes that start with a sperm and ovum and end up with a newborn baby. But it cannot tell us:
Does the fetus have a soul?
When do the products of conception become a person?
Should a zygote be given a full set of human rights?
Abortion kills a human life. But Is an abortion murder?
These are questions with philosophical, religious and political aspects. Science cannot contribute a great deal towards resolving them. And because these questions have a religious component, the diversity of faith groups in this world assures that there will always be a wide variety of beliefs based on conflicting religious teachings.
Personhood starting at or shortly after conception
Most people in the pro-life camp accept the genetic view: that a human personhood comes into existence at conception. That is, a just-fertilized egg (as shown in the image above) is a full human being. Its rights, including the right to life should be protected. Conception is the point at which the DNA from the two parents combine to produce a new DNA which is unique to the individual. Some believers assert that this is when the soul enters the body. Of course, the existence of souls is a hotly debated topic about which no consensus exists.

Others believe that personhood is attained a few hours after conception; it occurs at the first occurrence of cell splitting when two cells, called blastomeres, are formed from the original single-celled zygote. More
Personhood starting when blood is first present.
One interpretation of a theme found throughout the Bible links human personhood to the presence of human blood. That is believed to appear in the embryo circa 18 days after conception. More
Personhood starting later in pregnancy
Most people in the pro-choice camp believe that human personhood happens at some developmental stage later in pregnancy. They base their beliefs on different reasons. More
Personhood starting during childbirth
A few pro-choicers believe that the fetus becomes a human person only after it has been delivered and is breathing on its own as a separate individual. There is some Biblical justification for this belief. Biblical justification for this belief Genesis 2:7 states that God made Adam's body from the dust of the ground. But it was only after God "breathed into it the breath of life" that "man became a living person." The traditional Jewish belief, also based on the Bible, is that full personhood is attained when the fetus is half-emerged from the mother's body. More .
No consensus and no compromise on the morality of abortion appears possible:
To a person who believes that a human person is created at conception, abortion is a form of murder. Some pro-life individuals and organizations have suggested that an abortion clinic is the ethical equivalent to a Nazi death camp. They have suggested that embryo research is the equivalent of the fabrication of lampshades made from human skin in one of those same death camps. Some pro-lifers suggest that delaying the start of personhood beyond conception is analogous to the thought processes of slave owners. African-American slaves were once recognized as forms of human life, but not regarded as full persons. Similarly, during the Shoah -- the Nazi Holocaust -- Jews were considered as sub-human.
To a person who believes that human personhood begins at the start of the second trimester or later, an early abortion is a regrettable option, but often the most ethical choice for a pregnant woman who does not wish to continue pregnancy for emotional, mental, physical, or economic reasons.
Some believe that a late-term abortion can be justified for a variety of reasons:
A serious genetic defect in the fetus, which is often only detected in the second trimester.
A developmental problem in the fetus that will cause it to die within minutes or hours of delivery.
In cases where the woman would otherwise suffer permanent disability or a very serious health problem.
Public opinion surveys give conflicting results depending upon the precise wording of the questions asked. It would appear that a significant majority of adults in the US and Canada agree that a woman should have free access to a safe abortion in at least the first trimester.
In Canada and many countries of Europe, an uneasy peace exists. Abortion is legal and widely available. Abortion is generally accepted as a woman's right. The future status of abortion access in the US is however not so clear, it depends largely on the choice of new justices to be appointed to the US Supreme Court ... They may well overturn Roe v. Wade! More about conflicting believe systems on human personhood
So which group do you fall under? And how do you justify your believe?
If you have a chance to speak to God, what would you tell Him? Or for the nonbelievers, what would you say to the Supreme Court?
More comments at ...
Abortion I
Abortion II ... Pros & Cons
Abortion III ... Human Personhood