God hates Harry Potter?
Pope condemned 'subtle seduction' of tales of wizardry!
Harry is Evil, Potter is Satan!

HARRY POTTER has come under attack from soul-sucking dementors and basilisks, but he faces his most formidable adversary yet in the form of the Pope.

A letter written by Cardinal Joseph Ratzinger, before he was elected Pope in April, condemns the boy wizard as a potentially corrupting influence on children.

The Cardinal, then the late Pope John Paul II's "enforcer" as Prefect of the Congregation for the Doctrine of the Faith, revealed his views in a letter to the author of Harry Potter — Good or Evil?, a book published in Germany. The Cardinal appeared to sympathise with Gabriele Kuby's thesis that Harry Potter corrupts the young, distorting their understanding of the battle between good and evil. "It is good that you enlighten people about Harry Potter because those are subtle seductions, which act unnoticed and by this deeply distort Christianity in the soul before it can grow properly," he wrote.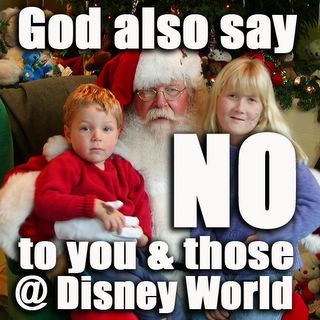 Well, the Pope (and orthodox Christians) also despises Uncle Santa Claus … I wonder what is Santa's sin?
For the record, Jack Brock, a priest from the Christ Community Church, said: "God says in Deuteronomy that witchcraft is an abomination.

Whatever God hates, I hate

." More at Times Online
Really? God told you He hates Harry? Yeah right. Looks like religion is not only unfriendly to kid, guess there is also not much fun in it huh?

Do you fancy a world without Cinderella, Snow White and my best buddy: Mr. Mickey Mouse? Is this a positive phenomenon? I must ask God ...

BTW, I wonder what do Jews and Muslims think of Harry ... I imagine it gotta be the same (since they all share the same root)?

Anyway, if you want to know the literal meaning behind the word "bigot", religious fanatics must be one of the best living examples.