Is Christianity a cult?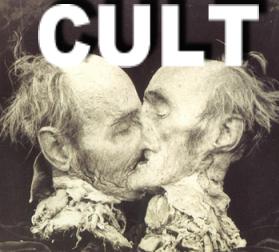 The purpose of this blog is by no mean intended to put Christianity down but rather, I am trying to take a closer look if the notion 'Christianity is a cult' holds any water or not?

Now you may ask who alleged 'Christianity is a cult"?

Well, I must admit I didn't hear it too often but I can tell you, the Jewish community generally thinks this is the case and as a matter of fact, this has been confirmed by a highly regarded Rabbi whose name I would rather withhold for professional reasons … basically for reasons I have mentioned in the previous blog as follows: -

1. Belittled Sabbath
2. Never Circumcise
3. Disregard Kosher
4. Idolate (The Lord)

and most important of all, guess the Orthodox Jewry was being seriously threatened by the exceptionally charming or ultra charismastic Jesus, back then.

So what is a cult? According to answers.com, cult (kŭlt) means …

1.a. A religion or religious sect generally considered to be extremist or false, with its followers often living in an unconventional manner under the guidance of an authoritarian, charismatic leader.
1. b. The followers of such a religion or sect.
2. A system or community of religious worship and ritual.
3. The formal means of expressing religious reverence; religious ceremony and ritual.
4. A usually nonscientific method or regimen claimed by its originator to have exclusive or exceptional power in curing a particular disease.
5. a. Obsessive, especially faddish, devotion to or veneration for a person, principle, or thing.
5.b. The object of such devotion.
6. An exclusive group of persons sharing an esoteric, usually artistic or intellectual interest.

Well, it looks like it is and yet it is not exactly so … Let's take at look at an alternative site "Is Christianity a cult?" at RationalChristianity.net for some clues ...

Among others, they say "Unfortunately, there are Christian and pseudo-Christian individuals and groups who exhibit one or more of the following characteristics" but it also said "Biblical-based Christianity is not a cult and does not support the use of cultic practices".

1. Overly aggressive evangelization
Granted, there are many Christians who are too aggressive in their attempts to share their faith, not to mention times in history when people were forcibly converted. Yet forced evangelism and/or conversion are not supported by the Bible.

Question: What I don't understand is why our almighty Lord needs aggressive evangelists? Why can't He just drop by when we are 'dreaming' to spread the gospel?

2. False teaching: Hyperexclusivism
Does Christianity make such a claim? It does claim that Jesus is the only way to God, but it also claims that this path is available to everyone and has been taken by people throughout all of history. It does not restrict membership in heaven to a certain number of people, people who belong to a certain race,[5] or those who joined a very specific church or denomination.[6] Nor does it claim that before the appearance of Jesus (or Abraham or Moses), no one had any access to truth or knowledge of God.[7]

Question: What about the statement 'only Born Again Christians can go to heaven'?

3. Brainwashing
Does Christianity forbid asking hard questions about its doctrines?

Alright, then proof it by answering my questions (mine are not even that hard, I think) …

4. Financial exploitation
Unfortunately, there are Christian organizations whose primary focus is fundraising and who may even resort to deception in order to line the pockets of their leaders. This practice is directly opposed to the teachings of the Bible, which condemns greed and trusting in wealth,[13] giving under compulsion[14] and exploitation of the poor.[15] wouldn't think he was motivated by greed.

What do you say about the followings?

- "Never come to worship me without bringing an offering" (Ex. 23:15)
- "The Lord said to Moses, 'When you take a census of the people of Israel, each man is to pay me a price for his life, …Everyone must pay this in an offering to me" . (Ex. 30:11-13)
- "The first born of an animal already belongs to the Lord … A calf, a lamb, or a kid belongs to the Lord, but the first born of an unclean animal may be bought back at the standard price. Plus an additional 20%" (Lev. 27:26,27).
- "One-tenth of all the produce of the land, whether grain or fruit, belongs to the Lord." (Lev.27:30).
- "…Lord's permanent property; it shall belong to the priest" (Lev. 27:21)
- More at " Monotheism I : Judaism & Christianity were Polytheisms?"

5. Emotional exploitation
Do Christians target young adults, the elderly and others who might be vulnerable to exploitation? Christians often do focus evangelistic efforts on a particular segment of society …

You bet … please ask around under what circumstances do people normally found the Lord?

Before I touch on other faiths, I'dmost probably take a closer at the various so called 'disobeying God' factors from 'belittling Sabbath' to 'Idolating God' and why I said Christianity is probably better off without the 'disobeying God' factors?

Anyway, say what you like, Christianity is and will remain one of my favorite faiths, so for Christ sake, let's say Christianity is NOT a cult!