Monotheism II: Father of Monotheism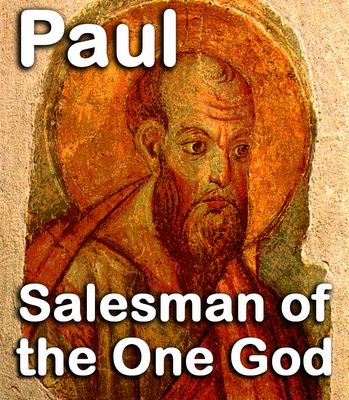 Guess most of you already know the answer ... That's right,

the father of monotheism is none other than Paul.
This man was a true believer with an unshakable faith that
Jesus was the Son of God
, (perhaps because
he never laid eyes on him and did not know him personally
to be aware of his weaknesses).
He became determined to preach the message of Christ that was rejected in his own homeland, amongst the rest of humanity. But this was a tough sell. Other nations had their own gods and would not listen to the preaching of a foreign cult. Many had customs that were different from those of the Jews and those that Jesus practiced.
What
Paul did is what any good salesman would do. He changed his product to make it more attractive to his western clients.
Paul was clever enough to realize that if he had to convert the Gentiles into Christianity, he had to re-invent a new Christianity palatable to their taste and liking.
He soon
dropped the requisite of circumcision, belittled the importance of Sabbath, undermined Jesus' preference of the Jews
and even claimed that he is preaching the messages of a pagan "unknown god".
This is reported in the following verses.
"Then Paul stood in the midst of Mars' hill, and said, Ye men of Athens, I perceive that in all things ye are too superstitious.
For as I passed by, and beheld your devotions, I found an altar with this inscription, TO THE UNKNOWN GOD. Whom therefore ye ignorantly worship, him declare I unto you."
Act 17:22,23
The temple dedicated to the unknown god was built because of the Athenian's concern not to leave behind any god, very much the same concept when we dedicate a monument to the memory of the Unknown Soldier. The unknown god was certainly the least of the gods and not as Paul wanted to believe the Creator of the universe.
It looks like by then many had come to see the similarity and the oneness of humankind. And therefore it was unreasonable to believe that each nation had a separate creator. It is interesting to observe that, as we saw in the above episode, apparently Jesus was less aware of this oneness than his disciple Paul. The reason is obviously circumstantial. Jesus was born and raised in a closed and dogmatic society. He, like his contemporary compatriots believed that the Jews are the chosen children of God. He was not concerned for the Gentiles and even rejected to assist them when they came to him. On the other hand, Paul was a more sophisticated and learned person. He had traveled extensively, was familiar with many cultures and had been in touch with great civilizations. His views were more cosmopolitan than those of Jesus. In his opinion, if Christ was the Son of God, his message should not be reserved only to the Jews but must spread to all the nations of the world. He, unlike his master, did not believe that God would play favoritism. But like Peter believed that "God is not respecter of persons"
Act 10:34
Thus,
monotheism owes its popularity to the clever and more universalistic views of the disciples of Jesus and not to his own teachings
. The spread of Christianity in the West, forced the early believers to adapt the teachings of Jesus and make it more appealing to the new converts. In this way, a local and obscure cult of few Jews became the religion of choice for Romans who eventually made it the religion of the entire continent.
Do you dispute Paul is the Father of Monotheism?
Unchained Slave
quoted
1 Timothy 2:5 "For there is one God and one Mediator between God and men, the Man Christ Jesus"
Question:
How do we know '1 Timothy 2:5' is not part of the works of Paul, either directly or under his influence?

If Paul were to be reincarnated into our era, I am sure he will emarge as one of the hottest commodities in the Wall Street ... I imagine most of the

Fortune 500 big boys would like to recruit the genius salesman

into their Who-Is-Who directory.

It sounds like

religion is a dirty business

after all ... no?
Next ... I am going to put up something on
traditional Jewish pratice abandoned by Paul
(in the name of marketing): -
No need to circumcise
No need to keep Kosher
Okay to idolate
Among all, I consider 'No need to keep Kosher' as the most significant of all. Maybe Christians should really thank him for this one, you'd otherwise not allowed to eat Cheesbuger, Lobster and the list is virtually endless (yes, not even cooking up one yourself). Now you know why the Jews regard Christianity as a cult?
Also, someone just sent me some materials disputing the saying
"We are all children of Abraham"