Persecution of Sky Kingdom I
Breaking News!


Barbaric persecution of an apostate …
State persecutes an ex-Muslim and flatten his religious commune …
Introduction:
Sky Kingdom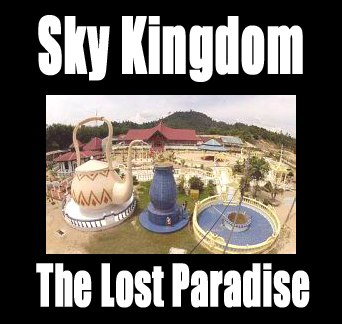 Sky Kingdom is a quasi-religious commune located in north east Malaysian. It has some 1,000 faithful and their main objective is to promote
interfaith
understanding. Sky Kingdom is a theme park like commune with an umbrella-shaped building, an ornamental fishing boat, strategically located faux Greco-Roman pillars, and the centrepiece - a pink giant '
Teapot
'!
Its spiritual leader:
Ayah Pin
is believed to be a reincarnation of everyone from Shiva to Buddha or from Jesus Christ or to Mohammed.
Ayah Pin: "
All religions are basically the same, God teaches love. He is for anyone who wants to know about the world. You can choose whichever religion you want
."
The commune has been branded as a '
Deviationist cult
' by the authorities ...
More at
Storm in the teapot,
Sky Kingdom Ayah Pin
etc.
Once Muslim, Forever Slave!
Together with members of the group, Ayah Pin has
publicly renounced their Islamic faith
in 1998 but was
REJECTED
by the state (NB:
Apostasy
is a capital crime in Malaysia punishable by DEATH sentence!
)
The Persecution
In 2001, the Malaysian authorities
jailed Ayah Pin for 11 months for attempting to renounce Islam
.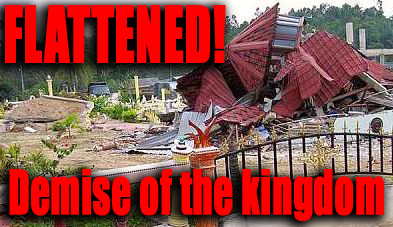 He is viewed as a
security threat
and they continue to harass him with all sorts of uncivilized threats befitting the low-life including
smashing up the lovely giant teapot and flattening the commune, which
they just did so yesterday!
Prior to the destruction, the authorities
raided the commune in July, 2005 and detained 45 faithful including a Kiwi, senior citizens and among others, 3 children of Ayah Pin and his 3 wives.
I read somewhere; there are
kids left behind unattended in commune
and while some faithful have to
pawn all theier belongs just to bail themselves out
, majority of the detainees are still in custody.
Their crime: Trying to be

unIslamic

!
As if the arrest was not good enough, mobs made up of some
35 unidentified assailants armed with Molotov cocktails attacked the commune and set the place ablaze ….
Assailants attack Ayah Pin's commune with Molotov cocktails!
... I supposed
mobs and Molotov cocktails are Islamic
.
Human Rights?
This must be a Greek word in Islam …
The group has appealed to a the local commision in charge of human rights 'Suhakam' for help … so far, no action.
And the most rediculous fact is that
Malaysia is actually a secular state!


According to their
constitutions
, there is religious freedom ... Refer to Malaysian
Federal Constitution, the Supreme Law (Article 4:1): -
"
Article number: 3
(1) Islam is the religion of the Federation; but other religions may be practised in peace and harmony in any part of the Federation
."
More detailsof their contitutions at
Malaysia-Today
I am seeing
hypocrisy of the highest order
here ...
By the way,
Mr. Pin is still at large
. They said he is '
protected' by the Almighty
in the name of justice ... do you buy this divine theory?
In the name of
Religious Freedom
, may
God bless Ayah Pin and revive the cute Sky Kingdom ...

More News, Links here
and here