Death To Female Circumcision!
I thought of revealing my God inspired idea on circumcision today but a comment from one
Abah Mui'zz
deserve some dire explanation …
Thanks for the comments and my comment in Blue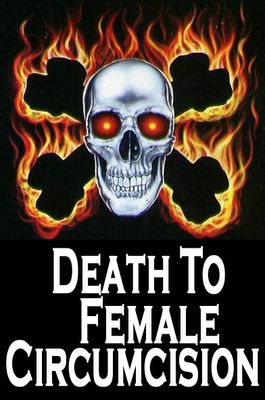 Just to add some comments, and this is based on malaysian muslim women.

Majority of malaysian muslim women was circumcised. And yet, they still live as other women in another country in this world, still be able to get married, have sex, have kids, go to work, do whatever they want to do, without any comments/grumblings.

And I don't understand why la bona do really says "Circumcision affects one physically and mentally". Because if it really affects, many of our women needs medical treatment, which in reality, it does not happen in Malaysia. I am not sure if that happens in western countries.

Is there any research done on the effect of circumsion for female?
Judging from your comment, you obviously haven't read much about Female Circumcision also known as Female Genital Mutilation (FGM) or Female Genital Cutting (FGC). Here it is briefly …

FGM typically involves the removal of a girl's entire clitoris (an excision that virtually eliminates the possibility of orgasm). In addition, clitoridectomy is often accompanied by the removal of the girl's labia and the sewing together of remaining raw surfaces, leaving only a small opening for the outflow of urine and menstrual blood, a process known as infibulation. Infibulation itself can have life-long deleterious consequences, including urinary distress, pain during intercourse, and dangerous complications during labor and the delivery of children.

In a rite of passage, an elder removes girls between ages 4 and 8 of their genitalia, usually without anesthesia. The procedure leaves the girls permanently scarred, unable to ever have normal sex lives. Long-term complications include sexual frigidity, genital malformation, delayed menarche, chronic pelvic complications, recurrent urinary retention and infection, and an entire range of obstetric complications whereas the fetus is exposed to a range of infectious diseases as well as facing the risk of having his or her head crushed in the damaged birth canal. More here (check the links out)
If you still think the above is acceptable, I must then conclude you and I are definitely from starkly different civilization. My stand on FGM is no way: it is brutal, it is cruel, it's inhuman … FGM must be outlawed, there is no room for compromise.
Death To Female Circumcision!
About the other question by la bona
"OK, let's say circumcision is not important, then why bother to do it?",

is it fair if I ask another question "Body piercing is also not important in life, then why many young westerners bother to do it?"?

Body piercing is a hobby, it is strictly optional and voluntary. It is normally done by teenagers whose brains are already working, not helpless babies. Female circumcision is akin murder, you force it on helpless baby girls and you just bloody ruin her life forever, beside all the life-long deleterious consequences mentioned above, she will never know what the hell is an orgasm, ever and forever!
And if you still think it is alright to rob a girl of her capability to experience orgasm, you might want to consider relocating to the zoo.
In Islam, female circumcision is never ever made compulsory. If you want to do it, fine, and if not, it is fine too. So, why do we need to bother yourself with this issue?
I don't think Female Circumcision can be categorized as a voluntary exercise, not when you do it on baby girls who are yet to be able to form an opinion.
I am bothered because it is barbaric to the highest order. To say it in one word, it is INHUMAN!

Discussing about fighting AIDS, fighting poverty, finding a best technique to educate our young generation, how to become a good husband/wife, are far more beneficial than discussing this topic.
Sure but Female Circumcision is as bad as any of the topic you have just mentioned, if not worse.
And we got some interesting feedback from Sara, an Iraqi Muslim lady who defies what is her word 'extreme culturism'. Here are excerpts of her comments on the dark side of Culture and Religion.
First of all, she thinks Female Circumcision not accepted and among others, she questions the ideology of worshipping and who is God? Is he a man, Holy Spirit, or simply an Inhuman? How do we connect to Him though? This is where things go rather wrong ... Some get baptised, some get radicalized (I assume she meant terrorism), some turn to worship fellow Prophets or messengers that are believed to be sent by God himself to make us believe in Him.

Now if Circumcision came from the actions of a man that was a Prophet or Messenger more than 1500 years ago and if it's done now, then it turns into this idea of 'follow the vice leader' (Mohammed pbuh?). The same with Muslims....Many Sunnis see Prophet Mohammed as someone to be worshipped, yet they deny that they do. Everything he DID, the people today seem to do and make excuses that they are allowed to do it because they should be following everything Mohammed PBUH did do (Muslims are idolaters?). This is where things get messy and where it divides believers upon religion, eg: Sunni and Shia. This is where many Muslims are still behaving as if they live in the olden days where they live in tribes and disregard the real era we are living in … The Dark side of Culture and Religion .... that's what it really is.

Well said, Sara … I have shut myself on Iraq after witnessing how a beast named Al-Zaqarwi beheaded two civilians on video but after reading this piece of comment from our dear Sara, I think I am falling in love with Iraq again …
Again, DEATH TO Female Circumcision!