Female Circumcision I
I didn't realize circumcision of girls is not a widely known phenomenon until
Erica Lubavitch
commented "
Wow La Bona, you've got a great sense of humor! The only one I never heard before was about Jews and Muslims circumcising GIRLs. But its a great joke nonetheless. Where'd you hear it?"
I therefore decided to put up this up to offer some insight into the dark world of
Female Circumcision aka Female Genital Mutilation (FGM) or Female Genital Cutting (FGC).

Circumcision is for Girls too ...
The
Egyptians circumcised their boys and girls as do the Jews
. The
Virgin Mary
was likewise said to have been circumcised (Briffault 3/324).
Islamic tradition also says it was practised by Sarah on
Hagar
and that afterwards both
Sarah and Abraham
circumcised themselves by order of Allah .
Both male circumcision and before it female circumcision have been an
ancient custom among Semitic peoples
from very early times (Briffault 3/323), however Jewish circumcision did not assume its present form until as late as the Maccabees (165 BC).
More
Other than Muslims and Jews, circumcision is
also performed by Coptic Christians, Protestants, and Catholics
(the preceding three are not known to me prior to my earlier Googling) and members of various indigenous groups.
Female Genital Mutilation (FGM)
(NB: Original diagram posted here which depict female anatomy has been taken down as it is commented as too crude for the faithful. Apologies for any offence caused)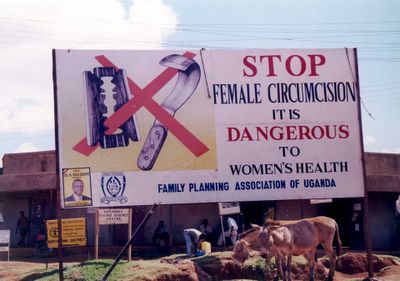 FGM typically involves the
removal of a girl's entire clitoris
(
an excision that virtually eliminates the possibility of orgasm
). In addition, clitoridectomy is often accompanied by the
removal of the girl's labia
and the sewing together of remaining raw surfaces, leaving only a small opening for the outflow of urine and menstrual blood, a process known as
infibulation
. Infibulation itself can have
life-long deleterious consequences
, including
urinary distress
,
pain during intercourse
, and dangerous
complications during labor
and the delivery of children.
In a rite of passage, an elder
removes girls between ages 4 and 8 of their genitalia, usually without anesthesia
. The procedure leaves the girls permanently scarred, unable to ever have normal sex lives. Long-term complications include
sexual frigidity
,
genital malformation, delayed menarche, chronic pelvic complications, recurrent urinary retention and infection, and an entire range of obstetric complications
whereas the fetus is exposed to a range of infectious diseases as well as facing the risk of having his or her head crushed in the damaged birth canal. In such cases the infibulated mother must undergo another operation whereby she is "opened" further to insure the safe birthing of her child.
Amnesty International estimates that 135 million girls have undergone various forms of genital mutilation, which ranges from a clitoridectomy to stitching the entire vaginal area closed except for a small opening for urination.
The Justifications
(or the lack of it ...)
In various cultures there are many "justifications" for these practices. A girl who is not circumcised is considered "
unclean
" by local villagers and therefore
unmarriageable
. A girl who does not have her clitoris removed is
considered a great danger and ultimately fatal to a man if her clitoris touches his penis
. (
wow
, this is a real terror!)
One of the most common explanations of FGC is local custom. Women are often heard saying that they are unwilling to change these customs since they have always done it this way and are not about to change. Oftentimes the practitioners are kept ignorant of the real implications of FGC, and the extreme health risks that it represents.
Family honor, cleanliness, protection against spells, insurance of virginity and faithfulness to the husband
,
or simply terrorizing women out of sex
are sometimes used as
excuses
for the practice of FGC.
Some people believe that FGC is a barbaric practice done to girls and women in some remote villages in foreign countries of the world. However, up until a few decades ago, it was still believed that the clitoris is a very dangerous part of the female anatomy. Who can forget S. Freud who stated in one of his books entitled Sexuality and the Psychology of Love that the "
elimination of clitoral sexuality is a necessary precondition for the development of femininity
."
Next:
Female Circumcision II
...

Origin, God & Excuse
Origins of Circumcision
Is it really commanded by God?
Can we do away with it and still stand tall, religiously speaking?