Female Circumcision II
"
Brit Milah or a brit or bris is the ceremony where a Jewish boy is circumcised and given his Hebrew name. This is done in fulfillment of the covenant God made with Abraham. Some will simply
use the same naming ceremony used for girls
…"
Clearly,
female circumcision was part of the Jewish tradition
in the old days and it's heartening to find out there is
general consensus against circumcision of girls
; a cultural practice that offer nothing significant in the world of spirituality, do let me know if there is any ...
I vote the saying '
A girl who does not have her clitoris removed is
ultimately fatal to a man if her clitoris touches his penis
' as the
Greatest Terror of the millennium
.
I see
no justification
in circumcision whatsoever …
What rights do we have to

rob a girl of her capability to experience orgasm

by removing her

clitoris

?

In the first place,

why would God give her a clitoris

if there is no use for it at all? (Actually, there is argument that we are a flawed creation of God ... we'd talk about this in the future)
I feel the life-long deleterious consequences as a result of circumcision, including sexual frigidity, genital malformation, delayed menarche, chronic pelvic complications, recurrent urinary retention and infection, and an entire range of obstetric complications etc … is simply INHUMAN.
I therefore appeal to those who still upkeep such a brutal tradition (Muslims in particular) to launch an all-out Jihad on clitoris removal … Death to Female Circumcision!
I have noted this particular nonsense for His Almighty to nullify ASAP, however, you don't have to wait for a confirmation because chances are it will be approved, and my confidence level that God will okay it is a cool 99.99999999999999999999999999999999999%
I concur with Maryellen that "circumcision of the heart is more important that circumcision of the body" and thank Becky for the pointer for thisn verse ...
"For in Christ Jesus neither circumcision nor uncircumcision avails anything, but faith working through love" (Galatians 5:6)
And I find her comment enlightening … "Don't fall into the trap of "religions do it, it must be divine." Religion -- even much of modern day Christianity-- has lost sight of the Word of God. If you justify your belief with religious authority alone, you're asking for trouble. Until you can justify something like this according to Scripture (as a whole, I might add), it cannot and will not do anything beyond grieving my heart as it does God's"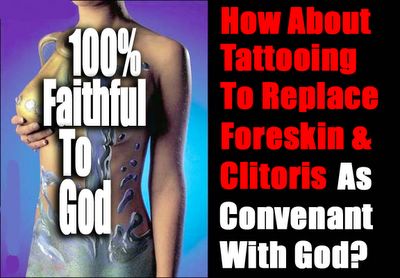 Psychologically speaking, some people may consider their faith as incomplete or something is amiss if there is nothing physical, visual or material to reflect their faithfulness to the Almighty. If you belong to this type, I have a proposal for you … How about TATTOOING?
Yes, what say you, tattoo your whole body with religious symbols, verses and what have you … Perhaps statements like "100% Faithful, Holy Slave, God's Buddy …"
Don't you think this idea is way cooler as compared to brutal acts like clitoris removal?
Now the next question … What about the boys?

Chris P. commented "Male circumcision, I have no problem with as God actually commanded it"
Let examine if this is the case next …
References