Why Paul's Christianity is way better … II
Continuing from the previous entry on 'Why Paul's Christianity is way better ... I?'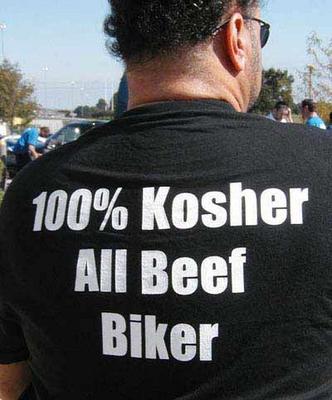 I consider the abrogation on practice or belief like Sabbath, Circumcision, Kosher, Idolating as
absolutely sensible
…
1. Belittled Sabbath
Maybe it was rebellious on the part of Peter/Paul (
I seriously doubt Jesus has a role in the abrogation process
) to 'belittle' the Sabbath which is the
standing order No. 3 supposedly ordered by God via Moses
(refer the Ten Commandments)
.... but
does it really matter
, particularly to His Children of the 21st century?
What good is it to rest on Friday
when practically 85% of the world is wrapping up for the week or awaiting their paycheck on Friday?
I am sure
God wouldn't want to disturb the prevailing order of the world ie. majority of the world is resting on Sunday
; so I think it would be
more sensible for the 'Sabbath' compliant faithful to appeal to God to nullify the standing order
No. 3 (of the Ten Commandments)
so that higher productivity could be attained
instead.
Trust me; God is ready to say 'Okay' … All you have to do is just make an official request.
2. Never Circumcise
Honestly, I really don't see
how foreskin of genital
(mind you, Jews and Muslims circumcise both boys and girls!)
is a proper form of Covenant with God
, does anyone know the answer?
As far as I am concerned, lets say foreskin was the only permanent (legal) media back then, I am sure
there are better options today
. What say you to have the Covenant with God burned on a digital media like DVD-W? Personally, I'd want to have it imprinted and embossed on a copperplate for cosmetic reasons ... I love copper!
So
I say Paul is absolutely succinct on this count ...
3. Idolating (God)
In the first place, I fail to see a good reason
why we shouldn't idolate or idolize?
As far as I am concerned,
idolating is motivating, inspirational
and as such, it's
progressive
and perhaps fulfilling … No?
Let say your kid idolizes President Bush and that he aims to become a president someday ... Isn't this a positive phenomenon, I imagine this can't be wrong, can it?
Of the same, I imagine a 'No Idolater' world is one that
forbid all unreal figures eg. no Barbie Doll, no Harry Potter, no Mickey Mouse
... What fun is there left on earth? Please refer to
'God hates Harry Potter?'
for details on the argument.
Among others, I see arts as one of the biggest issue here, if not the biggest one. See, fine arts is itself an unreal subject ... things like 'Cubism', 'Surrealism' or the latest 'Bonaism' etc. are 'unreal' ideas that work wonder. Without them, there will be no creativity, no culture and there will be no clor in life ... I'd port this to a new topic to talk about 'color' of life.
I suspect there must be a misunderstanding somewhere along the history on this particular topic …Does anyone have a clue?
4. Abrogated Kosher


Finally, Kosher is what I consider the
X-factor of the 'new' Christianity
… I can say it with much confidence that without the abrogation of the Kosher Law, Christianity can never attain even a quarter of its membership figure that is in place today.
A little bit of backgrounder on Kosher here … God knows who invented this diet rule (I am sure the intention was noble back then) that
forbid the faithful of Judaism (and later Islam) to consume such delicacies like bacon, cheeseburger, lobster or just about anything that is not physically inspected
(or should I say 'blessed')
by Rabbi or Mullah!


The list is as I mentioned before … runs longer than the toilet roll (stretched)!
If you think this is just another minor 'absurdity' in our society that does not affect you, then you better think again. This diet rule actually has a
extremely profound impact on our societies, it affects everyone!
For this particular one, I'd like say "Peter & Paul, thank you ... Love & Kisses"
One thing I don't quite understand is
how come Prophet Mohammad never abrogate the Kosher
practice? He didn't know Paul? Or could it be he has no idea there are billions of non-Kosher people (Gentiles) out there? Oh, I forgot, there was no Internet back then ...
Among others and most of us may not even realize it …
All of us are forced to pay a

'Kosher Tax' (ongoing since 1999) that no one is ever consulted, let alone consented!


Sounds like an unbelievable fact? You better believe it. I'll blog about this mega topic in a brand new series as this 'big' talk won't fit here … Stay tuned for
how the Kosher rules has ripped us off
… big time!
Meanwhile, you may want to check it out first at
'What Is Kosher?'
...